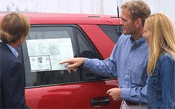 This guide was created to protect people from getting ripped off at a car dealership. As a former car sales pro with over five years of direct dealership sales experience, I have an immense amount of information to pass along to you that will help you save a ton of money on your new or used car.
In order to secure the lowest pricing for your new car, you will need to obtain multiple price quotes from your local car dealerships.
Where to find the lowest price quotes from local car dealers:
Edmunds free dealer price quotes and TrueCar offer buyers the quickest way to receive multiple car dealer price quotes.
These two sites enable you to request price quotes from multiple manufacturers (e.g. Ford, Toyota, Honda, Hyundai, BMW, etc.). Likewise, Edmunds and Yahoo! Autos offer the ability to request quotes from multiple dealers at the same time. This kills two birds with one stone because it 1- saves you time, and 2- lets the dealer know to send their best price because you will be receiving quotes back from multiple dealers. When dealers compete for your business, you win.
In addition to these two sites, you can Google your City's name and vehicle manufacturer (e.g. Chicago Ford dealer). Alternately, you can go to the manufacturer's website and use the dealer locator. If there is room in the comment box while requesting a quote, make sure to mention what county you live in (this helps the dealer compute taxes), whether you need new license plates or have transfer plates, and request the dealer's most competitive out the door price.
Don't give out your real phone number if the website requires it, as it is not worth the hassle of getting bombarded with a hundred phone calls from car salespeople. Follow up with the two car dealerships that give you the best price, and make them compete for your business.
Request the dealer's out the door quote:
If there is no room in the comment box to request the out the door quote, be sure to reply to the dealer's initial price quote asking for the out the door quote, including all taxes, license/title/plates, destination, etc. Comparing your local dealer's out the door quotes is the only way to compare apples to apples and obtain the best deal, as many dealers will hide bogus fees or other mysterious items in their quotes. Also confirm with the dealer what rebates and/or incentives they have included in their quote. Many manufacturers offer consumers either the special APR or customer cash, but some offer both. Lastly, be sure to let the dealer know if you are a recent college grad or military, as these two items often bring additional rebates (make sure dealers aren't including these rebates in their quotes, if you are not a recent college grad or military personnel).
Sample emails to local car dealership:
Sample car dealer email #1
"Hello. I am looking to purchase a new 2010 Mustang coupe V6 automatic. Color is not an issue. MSRP for this car is $22,840, and I am looking for your best out the door price, including all taxes, fees, destination, etc (I live in San Diego County, and need new plates). I am sending this to four local dealers, and will contact the dealer with the lowest price within 2-3 days. I have already test driven this car and like it. Due to my busy work schedule right now, I am only able to reply via email. Thank you in advance! -Sam"
Sample car dealer email #2
"I plan on purchasing a new 2010 Ford Mustang V6 coupe auto trans (not premium or convertible). Color is not an issue. MSRP for this car is around $22,800 I believe. I will purchase this Mustang within 1 week from the dealer with the lowest out the door price (include all rebates, but not the 500 grad). Please include all taxes and fees. This should be the amount I write you a check for. I live in San Diego and will need new plates. Please, email only right now. I will call the dealer with the lowest price. Thank you! -Chris"
Tips: Be specific with the vehicle you are looking for, otherwise the dealer may quote you on the wrong vehicle.
Once you start receiving price quotes via email, ask the dealer to break down the bill of sale line by line. A standard bill of sale looks like:
Sell Price: $xx,xxx (Internet price quoted should be sell price minus rebate below. Sell price should already include destination)
Trade-in Allowance: $x,xxx
Cash Difference: $xx,xxx (taxable amount, a trade-in save you money on taxes)
Dealership fees/Doc Fee: $xxx (typically ranges between $50-$150)
Sales Tax: $x,xxx (based on what county you are titling the car in)
Aftersale: $xxx (if you bought any aftermarket products/accessories)
License & Title: $xxx (varies whether you transfer or get new license plates)
Balance on Trade: $x,xxx (you should call your finance company ahead of time for your vehicle's payoff)
Total Price: $xx,xxx
Down Payment: $x,xxx
Rebate: $x,xxx (Manufacturer rebates are typically deducted after taxes; occassionally you will see dealer cash here also)
Out the Door/Amount to Finance: $xx,xxx (This is the amount you are requesting from the dealer via email)
Prep fees & service fees:
Note that the bill of sale above does not have a line item for prep fees or service fees. That is because these fees are bogus and should not be paid. Many dealers try to charge a prep fee for having their lowest paid employee peel plastic off the car and cleaning it up for delivery (or they might even say a mechanic checked the fluids and inspected the brand-new car). While the car does need to cleaned and prepped, this service is free and should never be paid. Walk out and find another dealer if this conversation lasts too long.
Once you are presented with a bill of sale, It is in your best interest to get out your calculator and calculate the dealership's bill of sale line by line. You need to understand what you are paying, and check for errors. When computing your sales tax, you need to confirm with the dealer what sales tax percentage you are being charged (based on what county you are titling the car in). Taxable items on your bill of sale include: 1) Sell Price minus Trade-In (if any), 2) Dealership fees/Doc Fee, 3) Aftersale (if any), and 4) License & Title. Once you have computed the taxes, add this number to the rest of the items on the bill of sale, and this should equal your out the door price.
If you don't get a competitive price quote via email, you will need to start calling dealers via phone, and requesting exactly what you did via email. The dealer will ask you, "What price do we need to be at," or "What price will it take to earn your business?" Ignore these questions, as they are simply lures and sales tactics. You can reply with, "I am simply looking for your best out the door price, and will buy from the lowest priced dealer." You don't need to go into further details, or tell them which other dealers you are shopping. Be firm with them if necessary, and always request the quote via email. A dealer not willing to quote via email isn't willing to honor the price quoted over the phone. You can say you need to show the email to your significant other, or just for your own records or peace of mind.
When you go to the dealership:
Your first visit to the dealer should be to strictly test drive the car and collect information (brochures). If the salesperson brings up pricing, simply say you are not ready to discuss pricing yet, and are just in the beginning research/test drive stage. You can also get a no-obligation trade-appraisal at this time (or take your car to CarMax).
Upong arriving at the dealership to make your purchase, make sure you specifically ask for the salesperson who emailed you (by this time, you should have already called or emailed this person to set up an appointment and confirm he/she will be available when you plan to visit). Be very selective in the information you tell your salesperson, as he/she will use this information against you to try and bump you or add more profit to the deal you have already worked out). Tell them you have a friend in the business (that's me!), but don't tell them who or where I work. You don't have to be rude, just tell them you would prefer not to mention where I work (while not all car salespeople are shady, most will lie to you every chance they get).
Car salespeople have incentive to rip you off, because they are paid a commission on the vehicle's gross profit (or how much additional they charge you from the original price quoted). For example, if the salesperson quotes you $18,000 for a car, and then bumps you to $18,500, he/she gets paid a percentage (usually 20-30%) on that $500 extra profit. There is typically no limit to this, so if the salesperson bumps you $2,000, they will earn at least $400 for overcharging you. Salespeople have become extremely good at hiding or masking these additional charges, which is why you must be on your toes at the dealership.
Also, show very little emotion while at the dealer (e.g. don't say you are in love with the car). Otherwise, if the salesperson thinks you are going to buy the car, you have lost, and will not get as good of a deal. There is much psychology involved when buying a car. Do not let your emotions guide your purchasing decision.
Getting a better price than you were quoted via email:
Some dealers will legitimately have no more room to go above and beyond what you were quoted. However, many more dealers will be willing to budge a little more. You should feel comfortable asking for $500-$1000 less than the price quoted to you (you can choose to do this in-person at the dealership or via email; in person is usually more successful). The salesperson will ask how you got to that pricing, and you simply need to say, "that is all I am willing to pay, or "that is what another dealer offered me." Dealers hate the feeling of losing your business to another dealer, so this tactic works very well. You simply need to say that is the out the door price "John quoted me at so-and-so-dealership, and I am seeing if you can do a little better" The salesperson or manager will give you their sob story of how they can't lose money to sell you a vehicle, but just stick to your guns and get yourself the best deal possible.
Rarely will the dealership lose money on a deal, so don't feel bad that you're buying way under invoice:
Since you'll be buying your new car under invoice, you might start to wonder how the dealership will survive or stay in business. You shouldn't worry too hard because the average dealer's profit per new car deal is $1,000-$1,500 on average (even more for used cars). While the dealer may be breaking even or even losing money to sell you a car, many more people are paying thousands more than you for the same car. Buying a car is is a game: you are trying to buy the car for as little as possible, and the dealer is trying to sell it for as much as possible. Most of the time the dealer wins this game, which is why many thrive and continue to stay in business. Although you are buying the car for under invoice, the dealer is still making money on financing, kickbacks, dealer holdback (money they receive from the manufacturer once the car sells), and monthly volume bonus's and incentives. The F&I (Finance and Insurance) and Parts & Service departments are the most profitable for the dealership, which helps it stay afloat and in-the-black (positive earnings).
Dealership Reputation & Reviews:
The Internet has made it especially easy to find a reputable dealer. A dealer's BBB (Better Business Bureau) reputation holds a good deal of weight (look for A+ ratings), as do online reviews. Filing a complaint with the BBB against a dealer who is not accredited by the BBB is worthless. Alternately, a BBB accredited dealer has much more to lose and will often try much harder to please you and honor the pricing they quoted.
The easiest way to find reviews of your local dealer is to simply search for them on Google. For example, Google "san diego nissan dealer" and you'll find local business results with dealership reviews out of a 5-star rating. Google includes reviews from most of the leading dealer review websites, including DealerRater and Edmunds, Beware of dealers falsely inflating their reviews through sites such as PrestoReviews. While I am not trying to suggest all car buyers leave the dealership unhappy, an excess of positive dealer reviews should be taken with a grain of salt. Use common sense when choosing a dealership, and more often than not you will choose a dealer based on your initial experience (via phone or email) with the salesperson (or Internet Sales Manager).
Trade-Ins:
Trade-ins are huge profit centers for dealers, and one of the least understood or items at the dealership (considered a wild card). You will almost always get more money selling your car on your own, rather than trading it in at the dealership. The Internet makes it extremely easy to sell your vehicle, and the most popular sites to do so are: eBay Motors, Cars.com, AutoTrader, and Craigslist. You can also get a quick no-obligation appraisal for your vehicle through CarMax.
If you must trade in your car at the dealership, be prepared for a battle. Salespeople love stealing from your trade (e.g. giving you less for your car than the manager appraised it for), and are very good at convincing you of your car's lack of value. Salespeople are paid a percentage (20-30%) of how much money they steal from your trade. I have seen trade-ins raised $2,000-$3,000 from what the manager initially appraised the car for (meaning the manager who appraised the car was trying to steal from the salesperson). Alternately, dealers will tell customers their trade is worth far more than it really is because they have front-end profit (selling the new car at a higher profit margin). This confuses customers because they are being told their trade is worth more than it really is. Good guides to help you determine your trade-in value are: KBB, Edmunds, and NADA. You can use these same guides to find what an individual buyer would be willing to pay for your car (to list it for sale on Cars, AutoTrader, eBay or Craigslist).
Aftermarket Products such as Paint Protection (cealant), Undercoating, Vin Etch:
The sales person, "delivery coordinator," or aftermarket specialist will give you a really good, really sales-y pitch on how you should protect your investment with paint cealant, undercoating, vin etching, etc. This products are typically a waste of money and I do not recommend you buy them. Their primary purpose is to increase dealer profit, and are often marked up 300% and higher. The dealership's cost for a "package A" (which includes undercoating, paint protection, interior stain protection, etc.) is around $300-$400, and the standard asking price is between $1300-$1800. Dealers are unlikely to give away this item at their cost. As for adding remote start, first compare prices at BestBuy.
Extended Warranty:
If you choose the right vehicle, you should not need an extended warranty. Doing your research ahead of time and choosing a vehicle that has good reliability ratings will save you pain and headache down the road. Today's vehicles are being built better and better, and extended warranties can typically be bypassed. However, if you need the peace of mind of being covered by a costly breakdown, research warranty costs at Warranty Direct, in addition to your local dealership's offerings. Keep in mind that not all warranties are created equal, and the cheaper warranty is not always better. Compare the warranty coverages, deductables, term (year and mileage), and last but not least, cost. You also need to verify what service locations the warranty is valid at (only the dealership, or nationwide). Hyundai's quality has greatly improved in recent years, and comes with a standard 10 year / 100,000 mile warranty, and roadside assistance for 5 years.
Know your Vehicle's Invoice Price:
My favorite site for finding a vehicle's invoice price is KBB. The Invoice price is the price the dealer actually paid for the vehicle from the manufacturer (less the holdback the dealer receives after the vehicle sells). Many dealers are quoting hundreds to thousands less than invoice, thanks to generous factory incentives, programs, and volume bonus's.
Step #1) From KBB's mainpage, click on "Search by Make and Model" under "New Cars" on the left. Choose your preferred Make and Model, enter your zip code, decide what year vehicle you want, and click on "Pricing" under your preferred model year (be aware that late model year vehicles are hard to find).
Step #2) Click on the vehicle's specifications that best suits your needs (body style, AWD or FWD, engine size, and transmission preference). Take your time here and make sure you choose the correct trim. Once you've made your selection, you should see your chosen vehicle's MSRP and Invoice.
Step #3) Now, click on "Price with Options" on the left. This page shows you most of the available rebates and incentives (college grad, military, or owner loyalty discounts may be missing). This page shows you the Invoice for the vehicle itself and all available options, which will prove to be extremely helpful. Most of the cars sitting on dealer's lots have floor mats and splash guards (mud guards), or other items pre-installed. Whether you wanted these items or not, you have to pay for them (you might be able to convince the dealer to take the floor mats out).
Memorial Day, Thanksgiving, New Year's, Independence Day: Additional Savings:
Around the Holiday's, the manufacturers almost always come out with additional cash rebates that can be used in addition to all current cash rebates and special finance rates. This means that holiday shoppers can get the best deal. Holidays are a dangerous time at the dealership, however, as salespeople are often trying to make as much money as possible (e.g. charge you more). But an intelligently planned Holiday purchase can result in the most dollars saved. Some manufacturers also have additional summer and end of month savings. Generally speaking, it is true that dealers discount more towards the end of the month.
Additional Research:
– Go to the store and buy the latest consumer reports magazine. They have good articles on car buying, plus reviews for the best new cars.
– Make sure you choose the right vehicle by test driving several different vehicles and researching reliability ratings and consumer reviews.
FAQ
Q: Why was this site created?
A: This site was created to help prevent customers from getting ripped off at car dealerships. The information listed on these pages will help people save thousands of dollars on their new or used car purchase, and might even enable you to feel confident you got a good deal after you leave the dealership.
Q: How can I trust this information will help me save money on my car purchase?
A: I have been employed at a high volume car dealerhip for over five years, and have the experience and knowledge you can rely on.
Q: What was your motivation to create this site?
A: Everyone has had a bad car dealership experience. I was one of them. Fortunately, I was given the opportunity to sell cars and learn the ropes. Also, my family always had the feeling they were ripped off after they bought a car, and I had no idea how to help. It also helps that I am a car enthusiast.
Q: I have questions related to getting a good deal on a specific vehicle. Can you help?
A: Yes! Send me an email and I'll be happy to investigate pricing on your specific vehicle. Be sure to include your zip code or closest major city so I can shop deals in your local city.
Share Valuable Car Buying Tips
Share this site with your friends and family, and let everyone in on the money saving secrets revealed on this site! Thank you for supporting FreeStuffChamp.com!
---
New and Used Car Buying Tips – FreeStuffChamp.com provides new and used car buying tips to help you save a ton of money on your next vehicle purchase. Written by a former car sales pro, this site reveals many industry secrets that no car dealership wants you to know!
To put this description on your page, copy this code: